It takes over a week for you to travel to Celestia. Besides the rumors, you do know something about the divine city.
Celestia information - DC 25 Arcana or Religion
Celestia, the Bright City, is the pinnacle of civilization: art, innovation, trade, and justice flourish among the many floating earthmotes upon which the ideal city is built. Erathis, Ioun, and Pelor reside within the city, along with hosts of angels and exalted souls. A scattering of beings from every mortal race inhabit or are passing through the city at any time and might rub shoulders with the angelic servants of other deities, eladrin lords, or even the odd devil that comes to the city to conduct business.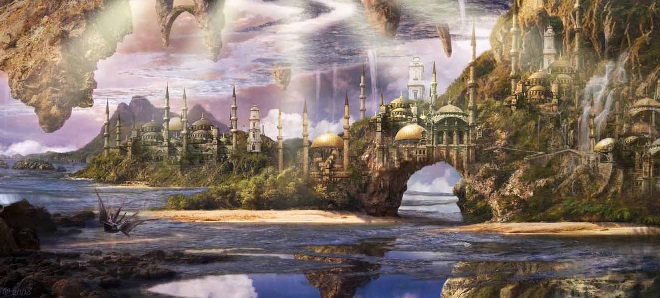 You arrive upon a pristine white sand bank that winds its way through a peaceful lagoon sparkling in the sunlight. Beyond the beach are open, airy buildings carved from white marble and roofed with gold. Elegant ships ply the lagoon and glide through the sky, darting about within the cloud of earthmotes that rises ever higher. Manicured cobblestone streets and breathtaking buildings of every imaginable architectural style crown these floating neighborhoods. Celestia, the Bright City, lies before you.
_______________
Dungeon Master - Scales of War
Edeya
- Githzerai Seeker - Points of Light
« Last edit by
Emily
on Tue Feb 07, 2017 2:53 pm. »